Skip Global navigation and goto content
Sun's Up, Cover Up!
May 01, 2019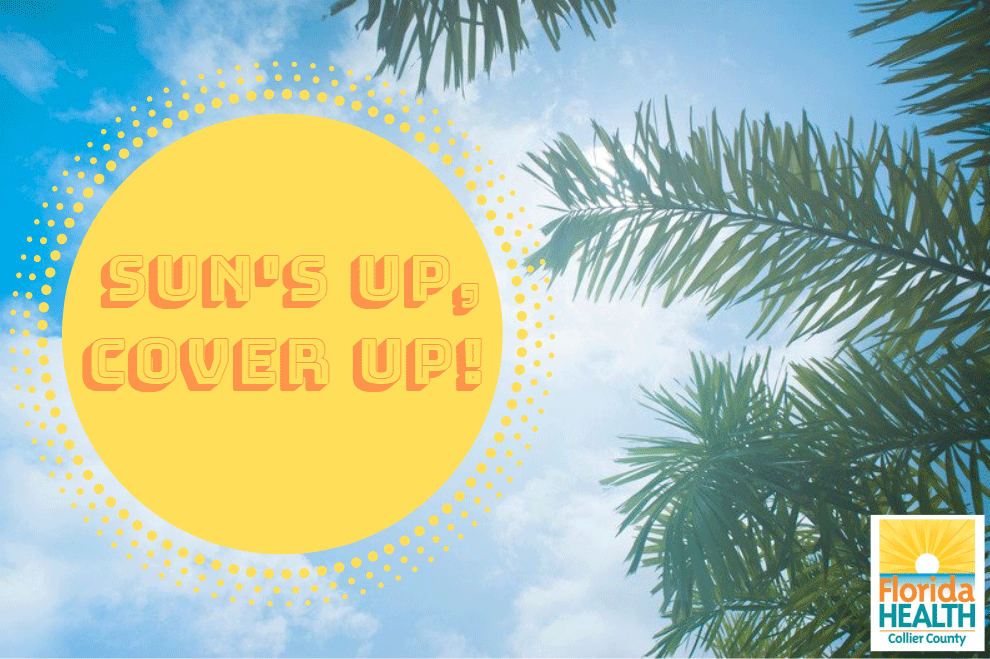 May is Skin Cancer Awareness Month and the Florida Department of Health in Collier County (DOH-Collier) is reminding residents and visitors the importance of protecting themselves from the sun.
Florida is known as the Sunshine State, and with an average of over 250 sunny days per year, it is easy to understand why! Our wonderful weather provides great opportunities for people to be active outdoors. It is important to remember while you may be enjoying our 150+ state parks, 100 miles of beaches and more than 1,500 miles of multi-use trails, you must protect yourself from the sun.
Skin cancer is the most common cancer in the US and is caused by overexposure to ultraviolet (UV) rays. According to the American Academy of Dermatology, approximately 9,500 people are diagnosed with skin cancer in the US every day. There are many ways to reduce your risk of skin cancer. DOH-Collier recommends the following tips to stay sun safe while enjoying our natural treasures:
Seek shade when the sun is strongest. This is typically between the hours of 10am and 4pm.
Wear a broad-spectrum sunscreen with at least SPF 15 on all parts of exposed skin before you go outside. Remember to reapply every two hours and after swimming or sweating.
Wear a wide-brimmed hat that shades your face, ears, and back of neck. Avoid straw hats that can let the sun through. If you wear a baseball cap, keep in mind that your ears and back of neck are exposed so be sure to apply a broad-spectrum sunscreen with at least SPF 15 to protect these areas.
Protect your eyes and the delicate skin around your eyes from sun exposure by wearing sunglasses. Wrap-around sunglasses are best as they block UV rays from sneaking in the sides.
Wear light, long-sleeved shirts when possible. Keep in mind that normal T-shirts have a SPF rating lower than 15, and a wet T-shirt offers much less protection than a dry one, so wear other types of sun protection as well.
Protecting yourself from the sun is important year-round, especially in Florida. If you notice changes in your skin such as a new growth, changes in an old grown, or a sore that does not heal, contact your doctor. For more information about skin cancer and how you can reduce your risk, visit www.floridahealth.gov.