Skip Global navigation and goto content
Winter Weather Impacting Vaccine Shipments
February 18, 2021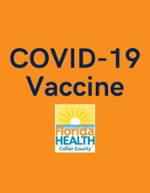 Unfortunately, due to the winter weather in parts of the country, there is a delay in the shipment for second doses of the COVID-19 Vaccine. The Florida Department of Health in Collier County (DOH-Collier) should have an update over the next several days. Once we have confirmation of the incoming doses arriving, DOH-Collier will notify residents to schedule an appointment.
Per CDC Guidelines, the second dose of both the Pfizer and second dose of the Moderna vaccine may be administered up to 6 weeks (42 days) after the first dose. https://www.cdc.gov/vaccines/covid-19/info-by-product/clinical-considerations.html#Booster-doses
Please do not contact the health department regarding this matter.
SECOND DOSE Reminders:
Please do not book more appointments than needed. One ticket = one appointment = one vaccine.
I tried booking my second dose appointment, but all the time slots are filled! What do I do? Unfortunately, some people double or even triple book appointments for themselves. Please contact the Health Department and provide your name, phone number, email, and date of your first dose. You WILL get an appointment.
I can't make the date of my second dose. Can I schedule it in a few weeks? Please make every effort to attend the day which you are scheduled as that is when we have a state allocated second dose for you.