Skip Global navigation and goto content
Break the Grip of the Rip
May 13, 2022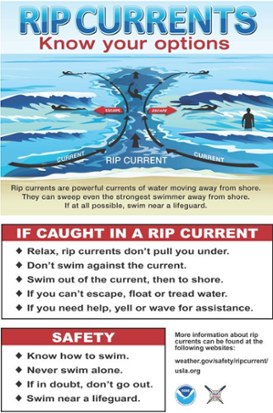 If you are planning on spending time at the beach, it is important to be aware of rip currents. Rip currents are powerful currents of water moving away from the shore. They can sweep even the strongest swimmer away from the shore.
If caught in a rip current remain calm to conserve energy. NEVER fight against the current. Swim out of the current in a direction following the shoreline. When out of the current, swim at an angle - away from the current towards the shore. If you are unable to swim out of the current, float or calmly tread water. When out of the current, swim towards the shore.
Remember to be wave safe:
Respect the power of the ocean
Check your local weather and tides, observe conditions before entering water and throughout the day
When entering the water, turn knees and hips sideways to help keep your balance
Duck under waves, do not dive
Never turn your back on the waves
Keep children within arms reach and never take your eyes off of them
Protect yourself before helping others
To learn more, visit https://www.weather.gov/safety/ripcurrent.