Skip Global navigation and goto content
Full Story
The Florida Department of Health in Collier County will host flu clinics on Saturday, October 3, 2020 and Saturday, October 10, 2020 from 9:00 a.m. to 1:00 p.m. at the Naples and Immokalee campuses. Flu shots will be given to anyone age 6 months and older. Vaccines will be offered free of charge for those who do not have insurance.
Summer is coming to a close, fall is just ahead, and while we look forward to a vaccine for Covid-19, there's no better time than now to take advantage of flu vaccine. It's the best way to protect yourself and your loved ones. Unlike Covid-19, most of us have general knowledge about flu season and the flu—a respiratory disease that can lead to serious illness, hospitalization or death.
Full Story on FloridaHealth.gov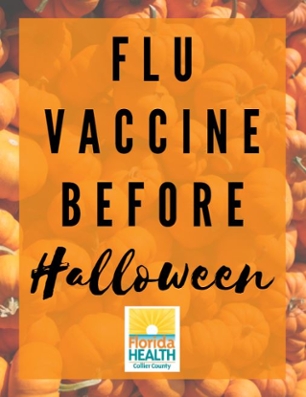 Flu season is here! The flu is a contagious respiratory illness that affects the nose, throat, and lungs. In light of the COVID-19 pandemic, it is more important now than ever to receive the flu vaccine. Evidence clearly shows that a flu vaccine can reduce the severity of the flu and prevent hospitalizations. By getting a flu vaccine this year, it will not only help protect you, but also protect frontline healthcare workers and hospital systems who continue to combat COVID-19. While the flu vaccine will not protect against COVID-19, there are other benefits from the vaccine. These benefits include saving healthcare resources for the care of patients with COVID-19 and reducing the risk of flu illness, hospitalization, and death.
FULL STORY
Popular Programs & Services