Skip Global navigation and goto content
DOH-Collier Tooth Fairy
The Tooth Fairy is the Oral Health Ambassador for DOH-Collier and strives to promote health standards by providing children with a customized hands-on approach for oral hygiene health! The 30-minute presentation is designed for elementary school-aged children and features hands on activities to promote a healthy smile through healthy habits. With the help of her pal Chewy students will learn about: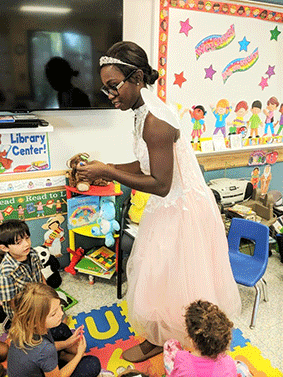 Cavity and plaque prevention
Proper brushing and flossing
Smart food choices
Dental decay and fluoride
Dental visits
The Tooth Fairy leaves students with a magical experience of oral health habits and healthy dental aids such as toothbrushes, flossers, and toothpaste are given out at the end of each presentation.
If you would like to request a presentation from the Tooth Fairy please complete and submit the Tooth Fairy Request Form. Complete this form with as much time as possible to ensure that the Tooth Fairy will be able to attend the event. To reach the Tooth Fairy please call 239-252-4222.
Key Oral Health Tips
Brush your teeth twice a day with fluoride toothpaste
Floss between your teeth daily
Eat a balanced and healthy diet that limits sugary beverages and snacks
See your dentist regularly for prevention and treatment of oral diseas
Data Source: American Dental Association
Help prevent tooth decay by following these tips
Brush your teeth at least twice daily
Floss in between your teeth daily
Eat nutritious and balanced meals
Talk to your dentist about the use of fluoride. Fluoride is used to strengthen your teeth
Check with your dentist about the use of dental sealants (a plastic protective coating) applied to the chewing surfaces of the back teeth (where decay often starts) to protect your teeth from decay
Data Source: American Dental Association
Fun Oral Health Games